Wired is a passionate and potent aerial and contemporary dance experience that tells race, gender, and disability stories of barbed wire in the United States. In this world premiere, the dancers of Kinetic Light partner, spin, and soar as they trace the fine line between "us" and "them" and explore the contradictions, dangers, and beauty of barbed wire. 
Immense and intimate, Wired meditates in sound, light, and movement as it questions and ruminates on power, belonging, abolition and deinstitutionalization, sexuality, art, community, and connection—all through the powerful lens of disability as creative and cultural force. 
In-depth: Making Wired, barbed wire, Melvin Edwards, & more
Access & Experience
Including detailed information about
Venue layout and Physical access
ASL interpretation
Tactile & haptic experiences
Quiet spaces & stim kits
Light, sound, and content notices
Audio Description info & description samples
If ticket price is a financial barrier, please email info @ kineticlight.org for a $10 community code for in-person tickets. Livestream tickets require registration and are free.
ASL is present for all live and streamed performances. There is no spoken text in Wired. CART will be available for livestreamed performance. These performances feature expanded accessible seating and ushers/access doulas from Bodies of Work Chicago. Audio Description will be available for all performances. Live performances will feature audio description through Audimance, with multiple content and experience options. Orientation and assistance with the app will be available pre-show at the venue, along with a tactile experience of Wired's set, props, and costumes. Livestreamed performances will include streamed audio description.
There are no strobe lighting effects in Wired. There are moving lights and animated projections. Light haze is present in some sections. Live performances on Friday and Sunday will offer an alternative lighting design. Wired content and artistry will remain the same for all performances. Audience members are welcome to exit and reenter the theater. Quiet spaces and stim kits are available before, during, and after all performances.
Funders
Wired is made possible with funding from the Andrew W. Mellon Foundation, Ford Foundation, New England Foundation for the Arts' National Theater Project, MAP Fund, O'Donnell Green Music and Dance Foundation, Shelley and Donald Rubin Foundation, and Café Royal Cultural Foundation. Lead support for Kinetic Light is provided by the Andrew W. Mellon Foundation, Ford Foundation, Doris Duke Charitable Foundation, and Borealis Philanthropies' Disability Inclusion Fund.
Wired is commissioned, in part, by The Shed Open Call 2020; supported by a Pillow Lab Residency; and developed, in part, at Z Space (San Francisco, CA, 2020–21).
The engagement model for Wired was developed with support from the Museum of Contemporary Art Chicago's New Works Initiative, with lead support provided by Elizabeth A. Liebman. Generous support is provided by the Chicago Department of Cultural Affairs and Events (DCASE).
Flight support by The Chicago Flyhouse and bungees from Adrenalin Dreams.
Livestream May 7
Register for the livestream here; pay-what-you-can $0 - $30
ASL, CART, Audio Description provided.
In-person tickets for all performances are sold out. There is a waitlist and we encourage you to contact the MCA Box Office directly at 312 397 4010 or BoxOffice @ MCAChicago.org.
Content Advisory: Wired honors the race, gender, and disability histories of barbed wire in America. At times, the performance includes depictions of violence and disability/race injustice.
Special Bonus! Coloring pages for your home-based enjoyment -- color in Alice, Laurel, and Jerron
Cast, Crew, and Artistic Collaborators
Conception & Direction: Alice Sheppard
Choreographed in Collaboration: Jerron Herman, Laurel Lawson, Alice Sheppard
Lighting, Projection, Scenic amp; Production Design: Michael Maag
Music: LeahAnn "Lafemmebear" Mitchell, Ailís Ní Ríain
Scenic & Prop Design: Josephine Shokrian
Costume & Makeup Design: Laurel Lawson, with jumpsuit fabrication by Timberlake Studios, Inc.
Access Artists:(Audio Description) Shannon Finnegan, Cheryl Green, Leah Lakshmi Piepzna-Samarasinha, Nathan Geering and Mo Pickering-Symes, using The Rationale Method; (Sound Design) Dylan Keefe, Andy Slater
Audimance Design & Wired Audimance spatial environment:Laurel Lawson, CyCore Systems
Audimance Engineer: Sean McCord, CyCore Systems
Production Manager: Matt Zimmerman
Production Stage Manager: Nykol DeDreu, Tiffany Schrepferman
Flight Director: Catherine Nelson
Automation Operator: Danica O'Neill
Rigging Consultant: Chicago Flyhouse
Lighting & Video Supervisor: Jordan Wiggins
Stagehand: Maddie Barton
Deck Rigger: Luke Boicourt
Scenic & Prop Fabrication: Lu Barnes-Lee, Misae Carrol, Max Chen, Sophronia Cook, Anthony Freitas, Marissa Todd
Front of House Access Support: Bodies of Work Chicago, coordinated by Carrie Sandahl with support from Sandy Guttman
In-depth: Learn more about Wired's additional collaborating artists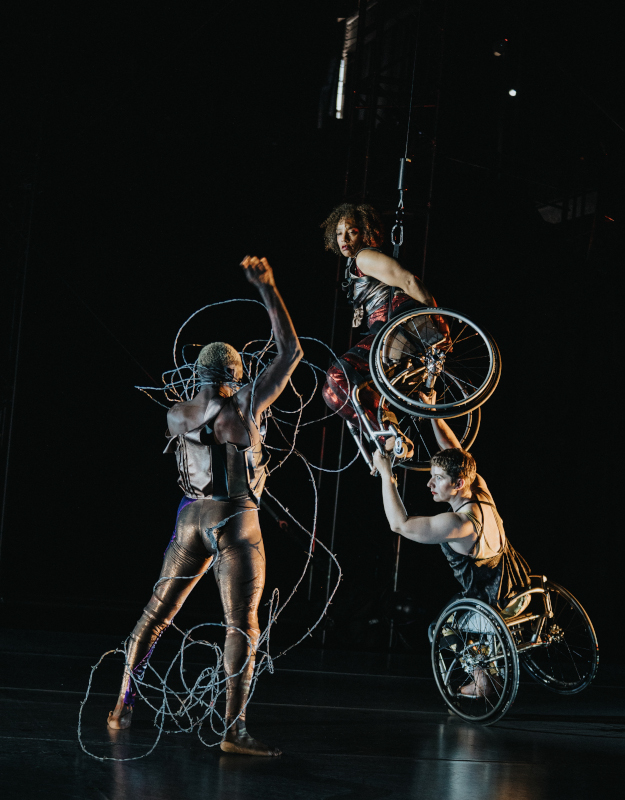 Three dancers face each other onstage. Jerron, a dark-skinned Black man with blonde hair, stands boldly facing the others, his body tense with energy. His tight pants and leather top shimmer. His fist flies overhead as silver barbed wire cascades from head to feet. Alice and Laurel are stacked and lean in toward Jerron with concentrated expressions. Alice, a multiracial Black woman with coffee-colored skin and short curly hair, hovers in the air. Laurel, a white woman with cropped hair, balances beneath her; she grips Alice's wheels while tilting on one wheel. Photo Robbie Sweeny/Kinetic Light.